She prowls the streets of Glasgow in her van, looking at everyone that walks by. We watch her. We watch her watching. We see what she sees, but we can't know what she thinks, or wants. She signals passersby to come up to her window and asks for directions, but interrupts their answers to ask about their lives – where are they headed, are they dating anyone, do they have family in the area? We wonder who she is. But then we see the way her smile drops to an utterly blank stare, the way she doesn't wince at the bright sunlight or even blink, the way each movement is troublingly deliberate and a new question enters: what is she?
"Under the Skin" is a masterpiece rumination on postmodernism that explores alienation in a very literal way. If you've yet to come across the attention grabbing logline, here it is: Scarlett Johansson plays an alien who has come to Earth to prey on human men.
English director Jonathan Glazer ("Sexy Beast," "Birth") hinges everything on whether Johansson (referred to as "Laura" in the formal credits) is interesting enough to spend much of "Under the Skin" simply looking at. She is. Most recently we've seen her as a loud-mouthed Jersey girl in "Don Jon" and a heartbreakingly authentic artificial intelligence in "Her," but here she acts not as a defined character so much as a vessel – attempting to embody the spirit of the human being but only guessing at it. Her presence amongst our species is the all-consuming focal point of every scene. Glazer is committed to putting us in her head. Here we have to do some work, turn on our brains. How would she view human behavior? What seemingly ordinary impulses and reactions are nothing more than a construct of our own culture and society?
The film is adapted from Michel Faber's 2000 novel of the same name, but significantly alters the themes of the story to favor internal existentialism (what does it mean to be human?) over the anti-corporation satire found in the source. His take on the story keeps the alien system behind a curtain. There are no spaceships and we never do see what the humans are being hunted for. Instead, to give us some glimpse of alien life, Glazer visualizes an abstract space to show us the ultimate fate of the men seduced by Laura. The men approach her, naked, entranced by the promise of intimacy, but end up sinking into a thick liquid pool where they're unable to escape. This extermination process is thought to take place inside Laura's home, but infinite darkness envelopes the room in a total disassociation of outdoor and indoor space.
Glazer seems to agree with the post-modernist view of human kind's interest (obsession?) with the surface-level of people and ideas. We see male aliens capable of overpowering their prey through force, but it is Laura's seduction through pure physical attraction that seems to be most successful. After viewing the film, the title will carry a disturbing connotation for more than one instance of the skin and what's underneath it becoming of importance.
The turn comes when Laura meets a disfigured man that seems to be as much a stranger to the world as she is. For the first time, through this man who shops for groceries in the middle of the night to avoid being seen by prying eyes, Laura connects to a human. And she wants more. She begins to uncover the side effects of humanity. While she initially doesn't understand vulnerability or fear, she is quickly taught these interactions once she explores what it would be like to be human. The final act led to by this change of direction amounts to a stunning collision of beautiful imagery and eye-opening revelations that find Laura, our predator, becoming the prey.
"Under the Skin" leads the pack in the past fifteen years of top tier science fiction films that includes "Moon," "Primer," and "Upstream Color." Dues are paid to Lynch and Kubrick throughout, but while Glazer's film draws those complementary comparisons, it never directly emulates the conventions or tricks of those legends. Glazer crafts his own brilliant originality as a filmmaker by blending high style with grounded realism. Many of Laura's interactions with humans on the street were shot with hidden cameras and real people. The incredible edit (done by Paul Watts) is done with expert restraint that goes a long way to assemble all of this into something worth having your eyes glued to.
It's impossible to close without making the pun that must be made, for "Under the Skin" does indeed dig itself in. There is precisely one comedy scene to disrupt what is otherwise 110 minutes of unbroken, hypnotic fixation on the screen. No doubt this is a heavy mood piece, and the response from festival crowds has been divisive (from ovations to booing) but the trailer paints the film to be a bit more abstract than it really is. The engaged viewer looking for more than entertainment will have no trouble following every step. This is not a mind-bender so much as a feast of intellect and style spiked with the haunting thought that you could pass a Laura on your way home from the theatre and be none the wiser.
Continue Reading Issue #1
Excerpts from the post-screening Q&A with "Under the Skin" director Jonathan Glazer
The following quotes were pulled from the post-screening Q&A with director Jonathan Glazer that took place on March 27, 2014 at the Landmark Century Cinema theatre in Chicago, Illinois, USA.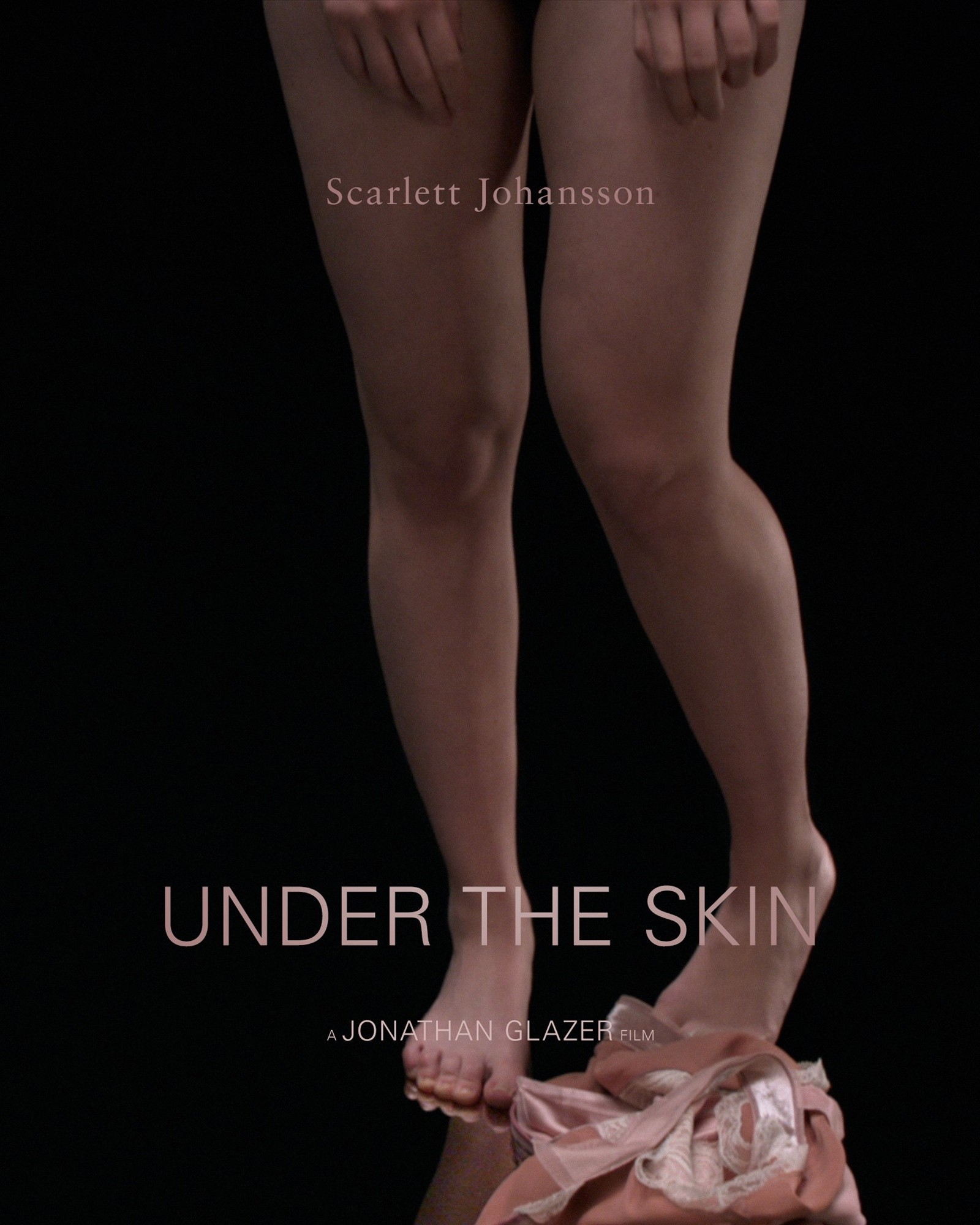 On adapting the novel…
"It's quite a significant change from the book. I read it only once a long time ago, but that was enough of a spark for me and then early on we started a very faithful adaptation of the book, but then we began to get away from that when we understood what it was from the book that we were most interested in."
On the style…
"When we were writing, from a very early stage, we wanted to witness the world rather than contrive scenes. It was really about dropping Scarlett in disguise into the world as it is and [matching it with] these very stylized sequences that demonstrate the alien realm. And once we did away with all the tropes of alien science fiction imagery, technology, engineering stuff, the only thing that felt satisfying or relevant was a black screen or a white screen. And then we worked on the basis of what we could with that."
"What we were trying to do really was design and film an alien as realistically as we could, and have her view the world as it is. It's about her investigating, or being drawn to human impulses."
On the sound design…
"Because we were committed to this perspective – seeing it through her eyes – then there's this fantastic opportunity that sound gives you. It's such an interpretive thing and we thought of the film as having eyes and ears. So the chaotic sounds that we'd normally filter out was something which became layered. We went through thousands of hours of sound to find these little moments – so sound had a form in the same way that the picture did.
On omitting what the aliens want with the humans…
"I think that it was very easy to explain away [in the book] and the answer was less interesting than the question, really. We felt that what was important was to see evidence of them wanting us for something, but not going beyond that."
On the scale of the production…
"Well the budget was seven million, and the crew went from sometimes 3 or 4 people when we were shooting in the streets to 100 people and back again. It took eleven weeks to film."
On the casting…
"A lot of the actors in the film are [professional] Scottish actors, but most of the people in the film were either found or shot and then casted – in other words we filmed a lot with people without their knowledge that they're being filmed and then after we'd tell them they're being filmed and ask for their permission to do so. There were some beautiful scenes that we couldn't use because they just didn't want to give their permission."
"I'd really committed to the idea of using [Scarlett Johansson] in it before she had committed to the idea of being in it. Once I understood that I wanted to disguise her, it was about using her incongruity in that world. That was part of the fuel of how she would work as a character – that because of how familiar we are with her, there was something interesting about utilizing that. And also the way she's objectified. And also the fact that she's a good actress [laughs]."
Release
US Wide Release: April 4, 2014 | UK Wide Release: March 14, 2014
Cast
Scarlett Johansson, Paul Brannigan, Jessica Mance, Michael Moreland, Krystof Hadek, Lynsey Taylor Mackay
Is English filmmaker Jonathan Glazer (who last directed "Birth" a decade ago) about to become a legendary auteur? Esoteric as Lynch, and ambitious as Kubrick, Glazer opened "Under the Skin" (a film that was quick to make the list of our most anticipated films of 2014) at the Toronto International Film Festival to divisive calls […]